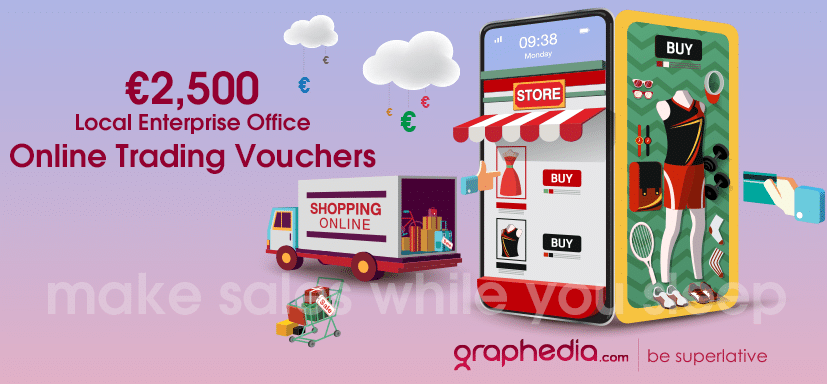 To get 10,000 Irish businesses online for the first time and to get a further 2,000 Irish SMEs trading online over a period of two years, the Government have introduced a "trade-online" voucher scheme as part of the National Digital Strategy.
This allows businesses to secure funding for 90% of their projects spend, up to a maximum reclaim of €2,500.
We have hundreds of customers selling online throughout Ireland and we would look forward to working with you too.  If you have any questions please do not hesitate to contact Us.
What the vouchers can be used for:
Development or upgrade of an e-commerce website
Implementing Online payments or booking systems
Purchase of Internet related software
Purchase of online advertising
Developing an app (or multiplatform webpages ?)
Implementing a digital marketing strategy i.e. Social media marketing
Consultation with ICT experts for early stage adopters of online strategy
Training/ skills development specifically to establish and manage an on-line trading
Activity
What the vouchers cannot be used for:
Businesses that are not already trading
Development of brochure websites
Purchase of non-internet related software
Anything other than online trading related activity
The vouchers are targeted at businesses with the following profile:
No online presence or companies seeking to improve their online presence
< than 10 employees
< turnover of €2m per annum