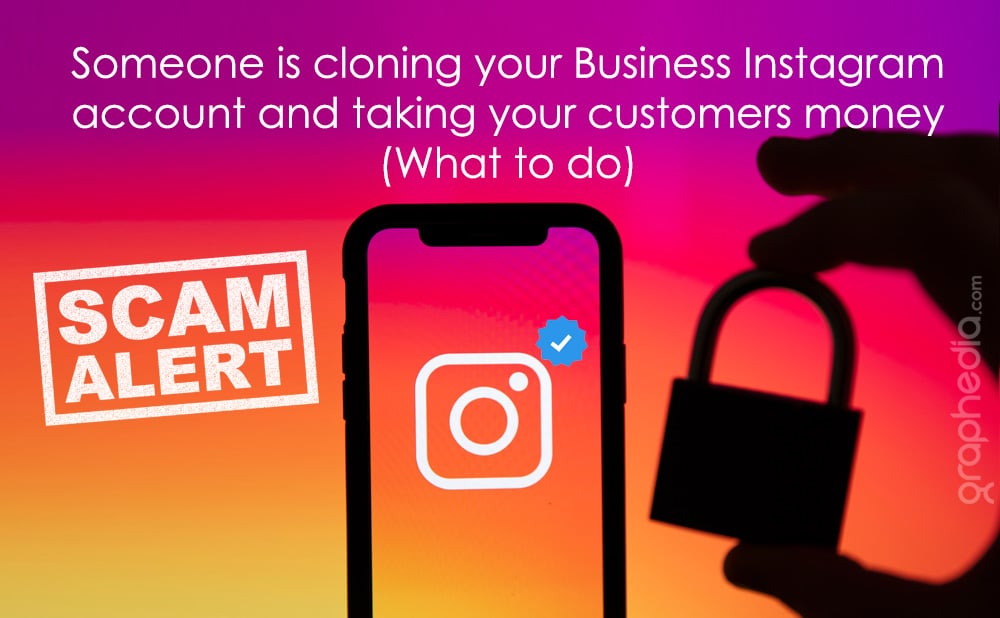 In recent times cloning of business social Media platforms has rapidly increased and is still on an upward trend which can be a threat to your business especially with the reliance on these platforms with its ever developing industry
It has come to our attention recently that more and more businesses are having their Instagram accounts cloned by scammers.  This happens where criminals have set up an account and stolen your Bio, your images, and created an account that looks exactly like yours. They continue by trying to get your existing followers to follow them thinking it is you and message your followers directly looking for personal and payment details.  The scammers generally target those with a high number of followers (Over 10k).
They continue by taking payment and then the purchaser is contacting you (the proper company) about their order.  This is sometimes how companies find out they have been cloned when someone emails into you asking where is their product.
This is fraud and causes great concern for the business owners thus finding a resolution is not easy as trying to contact Instagram can be difficult. Unfortunately, sometimes Instagram has no way of being able to tell which account is the real one and ends up shutting both accounts down.
You need to take action ASAP. Here's what to do if your Instagram account is cloned!
This is becoming very common, here are 5 tips to help you sort it out
* Note contacting the Gardai about fraudulent social media  platforms is not an option *
Ensure your Business Account is verified this can increase your chances of your account being recovered promptly (see how to verify below)**Did you know… 9times out of 10 Business Accounts are not verified on their social media platforms and its as easy as 1.2.3 **
Instagram verification is how you prove that your Instagram account is the authentic presence of a notable public figure, celebrity or global brand.  It puts the Blue badge on your account.These badges are designed to make the real accounts stand out, so that Instagram users can be sure they're following the right person or brand. They're easy to spot in search results and on profiles, and they convey authority.You need to do the following steps, if you don't do this part the rest of the steps are pointless)

a) Go to your profile and tap the hamburger icon in the top right corner
b) Tap Settings
c) Tap Account
d) Tap Request Verification.
e) Fill in the application form. Your legal name. Your "known as" or working name (if applicable) …
f) Tap Send.Once submitted can take up to 30 days to get verified. Good video how to below from hootesuite labs
Immediately take a screenshot of the fake account.
If you have been blocked by the account that has cloned you, ask your friends or customers to find it and send you a screenshot of it.
Change your profile picture to be able to distinguish between your real account and the fake account and add a new grid post quickly so that your real account looks different straight away.
Report to Instagram using this link https://help.instagram.com/370054663112398
See info from page hereInstagram takes safety seriously. If someone created an Instagram account pretending to be you, you can report it to us. Make sure that you provide all the requested info, including a photo of your government-issued ID.If you have an Instagram account, you can report it to them from within the app, or by filling in this form. If you don't have an Instagram account, please fill in this form.Instagram only respond to reports sent to them from the person who's being impersonated or a representative of the person who's being impersonated (e.g. a parent). If someone you know is being impersonated, please encourage that person to report it.Bear in mind that your report is anonymous, except if you're reporting an intellectual property infringement. The account you reported won't see who reported them.Note: If you're having trouble with uploading a photo of your ID from a mobile phone, please try submitting this form from a computer.
Ask as many people as you can, friends, family, followers etc to find the cloned account and report it to Instagram from within the app. It's important that they report it as "Impersonating someone you know", rather than just blocking it. Here are the steps to do this: Go on to the profile > Click the 3 dots on the top right-hand corner > Report > It's inappropriate > Report Account > It's pretending to be someone else.
Last few tips for extra security
Ensure you have two-factor authentication enabled on your account. This is an added layer of security on your account. It means that when you sign in to your account, Instagram & Facebook will send a code to your registered phone number or email which you then have to input before you can log in to the account.
Change your password on a regular basis. (DO NOT use your name in your password)
Being Seen through Social Media is a priority for Digital Marketing of your Business but Being Safe is most important
Contact Graphedia Today to discuss your security online & to take all necessary precautions to ensure your Business is Safe Online