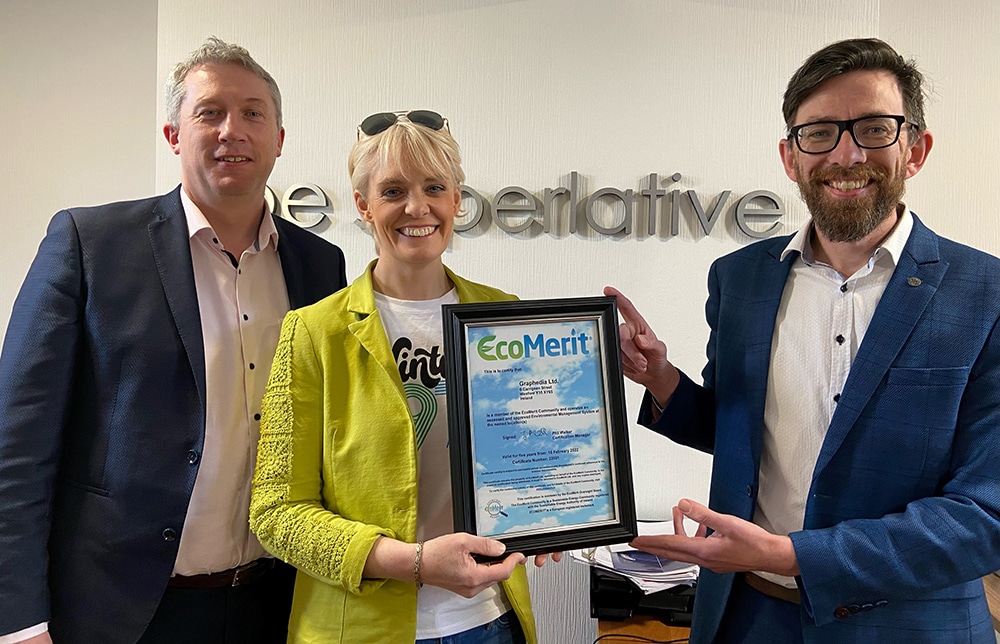 We are pleased to announce Graphedia have been awarded Ecomerit Green certification.
We have been working with EcoMerit to create a bespoke environmental improvement plan for our business and develop our green credentials. We will continue support and measure progress over time, as we implement actions from the plan.
Using the Green for Micro project as a springboard EcoMerit worked with Graphedia to develop an Environmental Policy and an action-oriented Environmental Improvement Plan. Guidance was also provided on how to use the EcoMerit performance workbooks to monitor our energy, carbon, water and waste usage.
Wexford County Councillor and Chair of the EcoMerit Oversight Board, Leonard Kelly, visited Graphedia's Wexford office to present them with their EcoMerit Certificate. He commented:
"I was delighted to present Graphedia with their EcoMerit Certificate. It's brilliant to see another Wexford business taking action on its environmental impact, especially given the latest reports from the IPCC reminding us of the urgency of the climate situation."
Sarah Reck Co Founder of Graphedia commented:
"We are delighted to be able to participate in such an excellent project that helps us become more aware of our Environmental responsibilities. EcoMerit allowed us to take an overall look at our current actions and implement an improvement plan to develop our green credentials. Thanks so much to all involved."