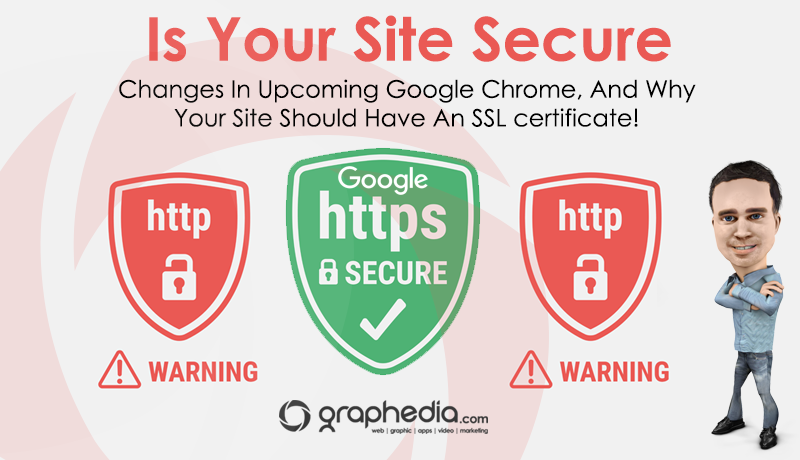 All of us here at Graphedia are conscious of security when it comes to using the Internet. They say that practice makes perfect, and we completely agree. That is why we are constantly improving on our techniques to practices to be bets at what we do. That's how we can spot a dodgy site from a mile away. Yet, we understand that some of our customers and even our customer's customers may not have the time to keep up with all the security changes that are going on.
We are not the only company who think this way, Google are also very proactive in protecting their customers from threats on the Internet. One of their latest protection ideas revolve around their web browser – Google Chrome. Beginning January 31st, they are making some subtle changes to the way Chrome recognises websites and how secure they are.
What Is An SSL?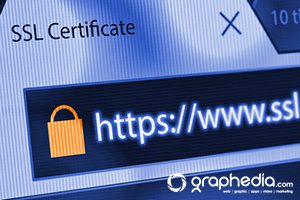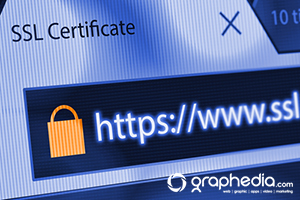 SSL stands for "secure sockets layer" and is a form of security for sites that handle sensitive information such as customer names, phone numbers, addresses and credit card numbers. It creates a secure connection between a customer's web browser and the server of the company they're interacting with. Here's an example. Let's say you need to talk to your friend about some personal conflicts going on within your life. Would you rather talk to them in public where you run the risk of people overhearing you or would you rather have your conversation in private? An SSL gives the company and the customer the ability to communication and share information, in private.
What Changes Are Going To Be Made To Chrome?
On current versions of Chrome, when you visit a website without an SSL certificate you will see a very discrete exclamation mark beside the website address (picture below).

This is not overly obvious to the end user, but changes being rolled out in version 56 are a little more obvious. As you can see from the below picture, the basic exclamation mark has morphed into a more obvious "Not Secure" message.

Google are not stopping there, in future versions, they plan on making more changes to Chrome. One of those changes will see the new "Non Secure" message being made even more prominent by making it a bright red font to grab your attention.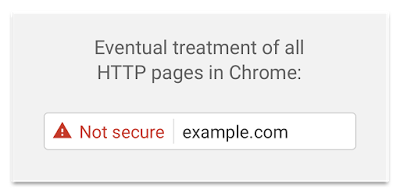 Will This Have Any Implications For My Website?
Yes, I'm afraid so – it will have implications for all websites that do not have an SSL certificate (only when users are using Google Chrome 56+). While your sites will continue to function normally, your users will see these security notices in their browser. Some users may choose to ignore them, but the fact of the matter is, everyone is concerned about security. This means that as time goes by, users will start to get uneasy when visiting your site and eventually avoid your site altogether.
Are There Any Major Benefits To Having An SSL Certificate?
Loads – absolutely loads.
End to End encryption
Prevents eavesdropping on user data (ISP's, Not Nice Governments etc.)
Prevents man in the middle attacks and phishing attacks.
Should always be used when accepting credit cards.
Improves your SEO rankings in Google.
Improves customer trust.
Is There Anything I Can Do?
There sure is, but it will involve the obvious – purchasing an SSL certificate for your website.
Contact Niall here in Graphedia and he will fill you in on how to go about getting one for your website.
Source: Google Security Blog
Other Links of Interest