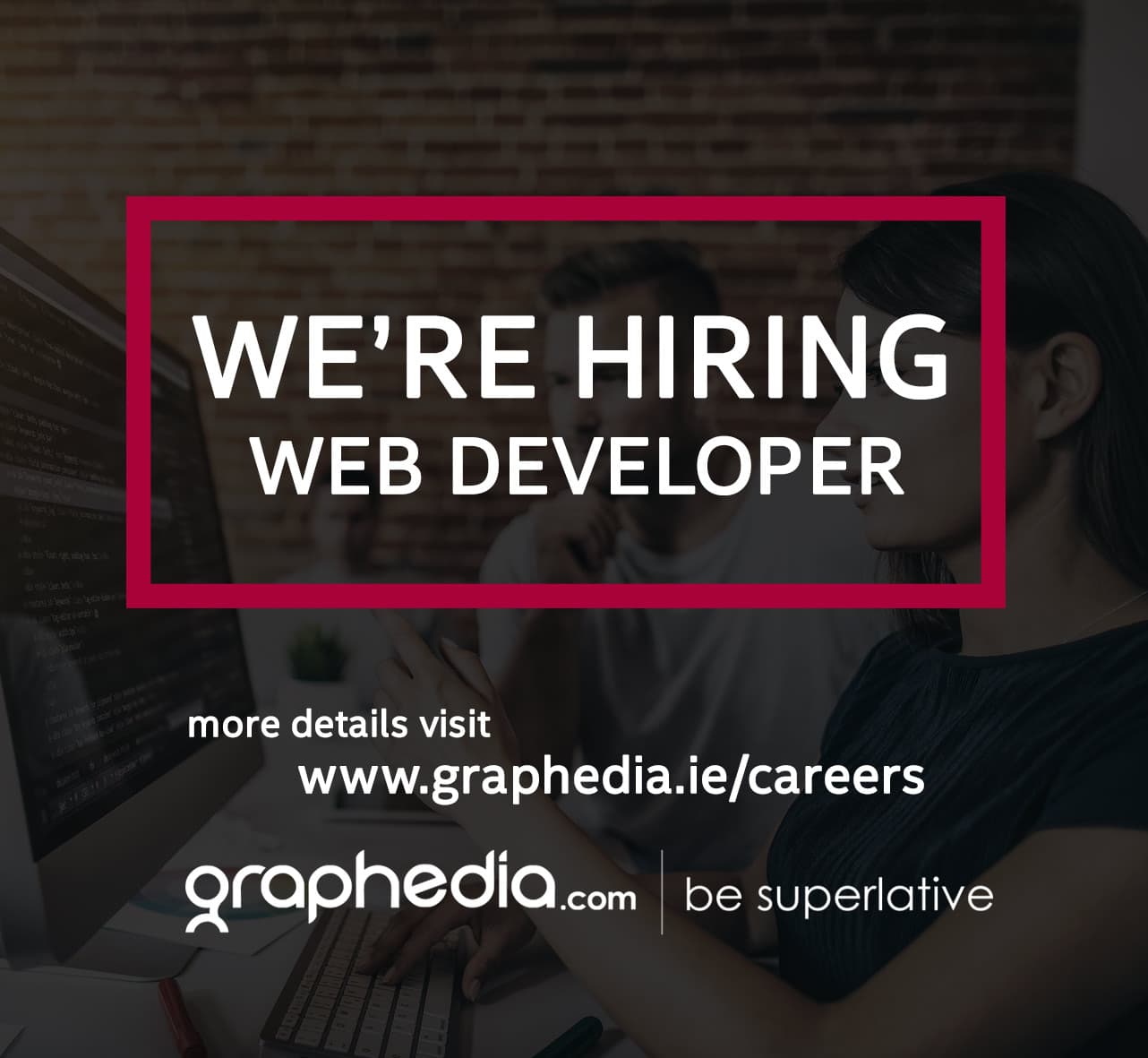 Graphedia are looking to recruit a
Web Developer to join our team.
Graphedia is an Award-Winning Digital Design Agency based in Wexford & Kildare.  Our people are creative, innovative, technical, and passionate about everything digital.  We work hard to make our employees thrive in work and in life by providing our people with engaging work and future opportunities in the beautiful town of Wexford in the Sunny South East.
The business and its leaders will provide significant learning and opportunity to the right candidate.  A competitive salary and benefits package is on offer. Option for hybrid working (work from home & in the office in Wexford). While there is support from senior leaders, you will have the opportunity for significant autonomy in this role.
We are looking for enthusiastic and motivated people who want to work in a very creative, fun and team focused environment.  Graphedia offers flexibility and freedom in return for passion and commitment.
ABOUT THE ROLE:
Website development using WordPress, content publishing.
Website management queries from clients and team members. Debug complex issues and bugs using debugging tools for WordPress
Conduct code reviews to maintain a clean and consistent code
Website Support & Answering customer support queries
Liaise directly with clients to ensure their web requirements are managed.
ABOUT THE PERSON:
SKILLS:
Proficiency in PHP

Excellent Knowledge in WordPress and plugin development, JavaScript / jQuery
Experienced in developing for CMS systems (WordPress)
Able to work both as an individual and as part of a team
Knowledge of WordPress installation, configuration, administration security and optimisation
Web hosting, email set up, and DNS knowledge
Apple and Android development of web apps would be desirable but not essential.
EXPERIENCE:
Experience with industry standard development packages such as PHP, WordPress, Custom Field Development, Atom or similar IDE
Usability – understanding of how customers interact with websites and how to improve and innovate on same
Strong interpersonal skills
Ability to multi-task and ensure flawless execution and delivery
Good responsive design and user interface design.
If interested in this opportunity, please Email info@graphedia.ie.  Graphedia is an Equal Opportunities Employer, All applications processed in the strictest of confidence