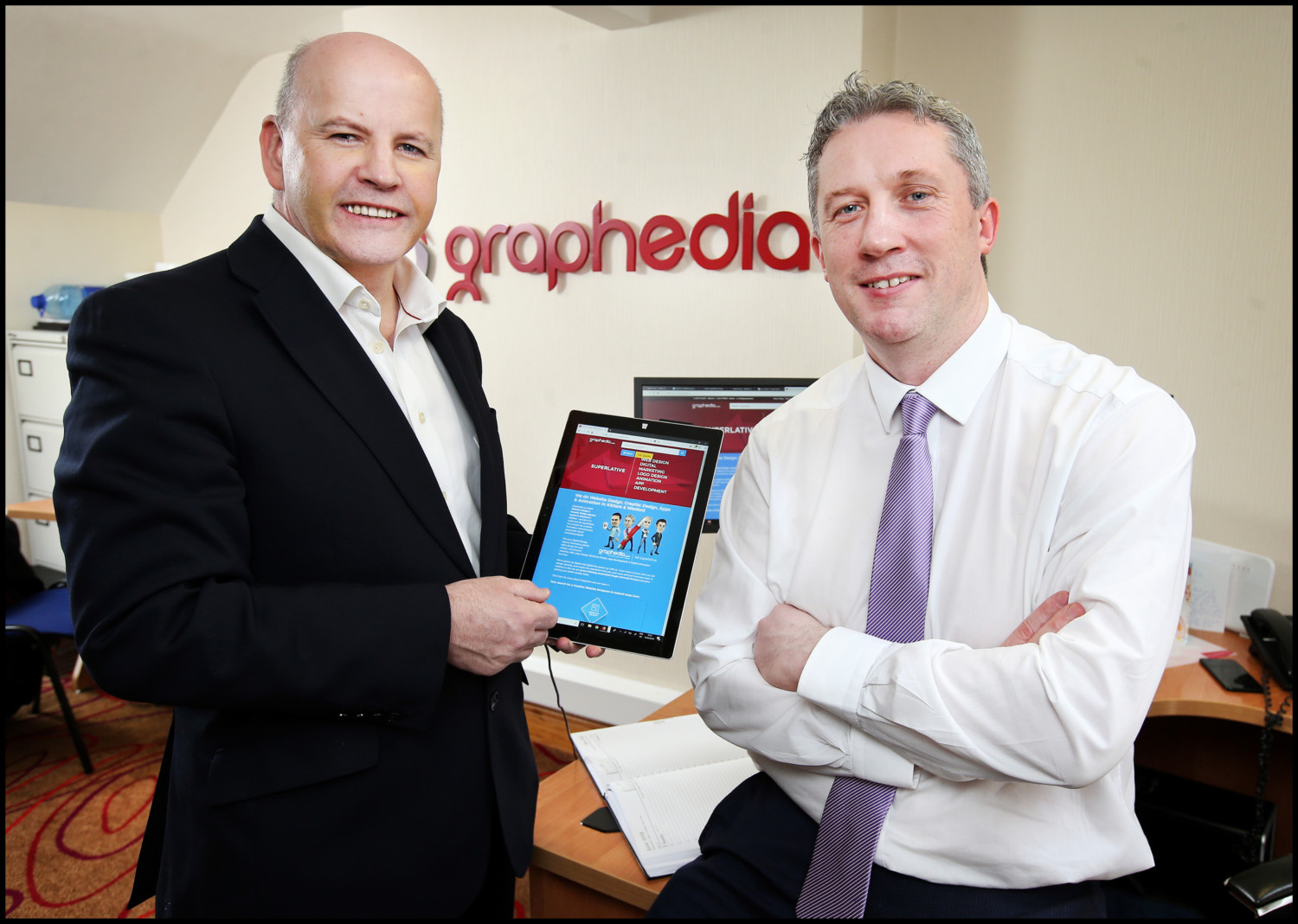 Sean Gallagher with Niall Rec, managing director of graphedia.com. Photo: Steve Humphreys
15th March 2018
Article by Entrepreneur Sean Gallagher in the Sunday Independent on the 25th March 2018
Striking a balance in business between enjoying what we do and making time for family and community is something that many entrepreneurs struggle with. It's a struggle that design company Graphedia's founder, Niall Reck, seems to have mastered. A growing business and active role in his community are yielding him both success and fulfilment.
Set up by Niall Reck in 2000 and with offices in Wexford and Kildare, leading digital design company Graphedia employs four staff and has annual revenues of almost €500,000. While it's in a competitive environment where technology is constantly developing, the company has managed to carve out a successful niche for itself in the areas of web design, graphic design, app development and digital animation.
"We look after everything for our clients from developing traditional company logos and brochure designs to web design, ecommerce websites and SEO, or search engine optimisation. We're also an authorised Google AdWords partner," explains Niall. "Our key strengths lie in our creativity, our innovative approach to projects and the fact that we are absolutely passionate about everything digital."
As he introduces me to the company's senior developer and programmer, Brendan Doyle, the pair explain what's required for success.
"It's all about giving users a better experience, making sites easy to navigate, encouraging engagement and having clearly defined calls to action, whether that is to buy now, sign up, download or click through for more information.
"Today's websites and apps need to be responsive in how they looks and feel. But they also be to be optimised for specifically-targeted user traffic – and this is where the integration of social media and video come in," says Niall. "It's also where Google Analytics and web marketing tools become essential so you know who is visiting your site, how long they are staying, where their eyeballs have gone and where they have clicked though as a result. We used to design for desktops and then adapt for desktop but with 75pc of our clients' users coming via mobile, we now design for mobile first," he explains.
The company has built up a diverse mix of clients, mostly from the SME sector, ranging from retail and construction to property, tourism and hospitality to manufacturing, finance and consulting firms. In addition, it looks after the design requirements for a number of local authorities and representative bodies such as chambers of commerce.
It's a network of customers which Niall has built up over almost 20 years of working for himself as well as from his involvement in a myriad of community, voluntary and business organisations. He is president of the Wexford Chamber of Commerce, a past president of the Rotary Club of Wexford and an active fundraiser for the local hospital. Giving back to his community is important to him.
An outgoing individual, he began working in local bars and hotels during his teens and believes that this helped him develop his strong social and interpersonal skills.
"Business is all about being able to talk to people and read people. It's something you have to develop and learn through experience," he says.
Having completed a diploma in product design in Carlow IT, he joined a local IT firm and quickly got to work polishing his design, sales and training skills. After three years, he felt it was time to strike out on his own and so Graphedia was born. "The name for the business came to me in a dream," he explains. "I just saw the words graphic and media coming together and fusing in a white light to reveal the name Graphedia.
"While I love the name, and it's well-known now, back then it was funny how much time I had to spend explaining what this hard-to-spell name actually meant and where it came from."
Just married, he broke the news to his wife Sarah that he was leaving his job and going out on his own. She was hugely supportive and encouraged him to follow his dream.
A qualified accountant, she joined the business in 2005. In the beginning, however, he worked from the couple's home before moving to the Wexford Enterprise Centre and later managed to buy his current premises. "There have, of course, been many challenges along the way from having to compete with larger, more established businesses to managing cashflows," admits Niall.
"However, we faced them all head on and if I couldn't find a way through them I found an alternative way around them," he adds.
The first five years flew by. As a sole trader in those early years, he looked after everything. "I was still working by myself. If I am honest, I was beginning to feel a bit of a busy fool," admits Niall. "In 2005, I signed up to do a six-month part-time owner manager's programme with business consultant and trainer Blaise Brosnan. Blaise helped me undertake a SWOT analysis of the business and also of my own skills. Importantly, he helped me realise where I was spending most of my time, much of which was on non-billable activities.
"I realised that it was time to begin to think and work more strategically. That's when I decided to take on extra staff, including Sarah, who now looks after the finance and office admin side of the business, to help free me up to focus more on the business development side of things. As a result, I halved my working hours and doubled my turnover," he adds.
In 2014, in order to extend the company's reach, he opened a second office in the Kildare Chamber of Commerce hub in Naas.
He also recently added another employee to the team and is now looking at making a further hire in the near future.
"I love this business and the industry," explains Niall. "From mobile and apps to 3D it's constantly changing, which is exciting. I see huge potential in the whole 3D animation side of our business. We've been including this as part of promotional video for customers for some time now.
"It's not only hugely effective in improving user experience, but is a real point of differentiation for us as a company. Plus, we love doing this type of work. We see virtual reality and augmented reality as something that will also soon become mainstream in the industry. That's the great thing about this industry, you have to be constantly moving forward. Our job will always be to serve our customers' needs no matter what the technological trends of the day are," he adds.
NIALL'S ADVICE FOR OTHER BUSINESSES
Go with your gut
Our instinct is nature's way of guiding us. Learn to trust your gut when making decisions. It's seldom wrong. To become successful at anything, you first have to believe in yourself and learned to trust your own judgement.
Value your team
While in business, it's vital to value your customers but it's also important to value your team. They are the lifeblood of any business. Treat them well and make work fun. It is absolutely possible to enjoy the journey while still getting the job done.
Give back if you can
Life is about achieving balance. My formula for happiness is family first, then business and then charity. I believe it is important to give back to your community, whether through supporting your local school, hospital, Chamber of Commerce, Rotary Club or other voluntary initiatives in your area. That's part of what real success is all about.