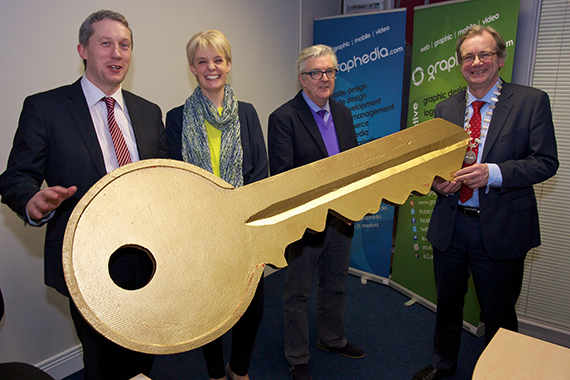 2015 marks the 15 year in business for Graphedia, and to continue with the success of the company we have just opened our new offices in Sallins Road, Naas, County Kildare. We plan on recruiting more people to join our Kildare branch in the future, so if you feel you have the skills contact us. We put the success of Graphedia down to our excellent staff and superlative customers.
We are delighted with the move and look forward to working closely with the North Kildare Chamber in helping our company grow further. The big key if you are interested was to go with the opening phrase, "The Key to our Success" we do not sell keys, but we did have fun with it 🙂
See below some photos of the opening day with Minister Jed Nash, and other local businesses from Naas.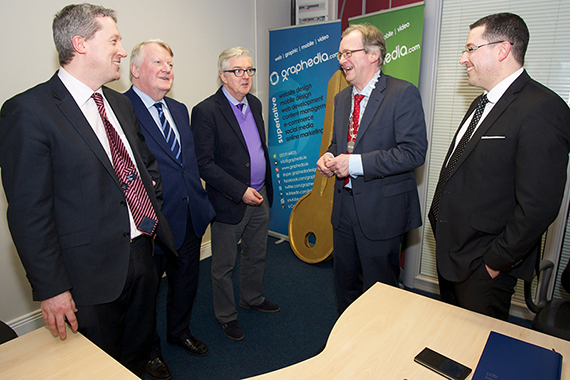 Not holding the key this time, in the photo from Left to right Niall Reck (Graphedia), Ronon Twohig (house of Finance), Vice President Chamber Vivian Cummins, President Niall Browne & Keith Traynor (HTH Accountants)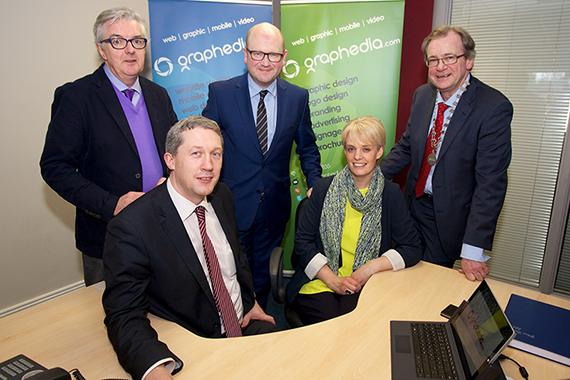 Vice President Chamber Vivian Cummins, Minister Jed Nash, President Niall Browne & Keith Traynor (HTH Accountants) in front Niall & Sarah Reck (Graphedia)