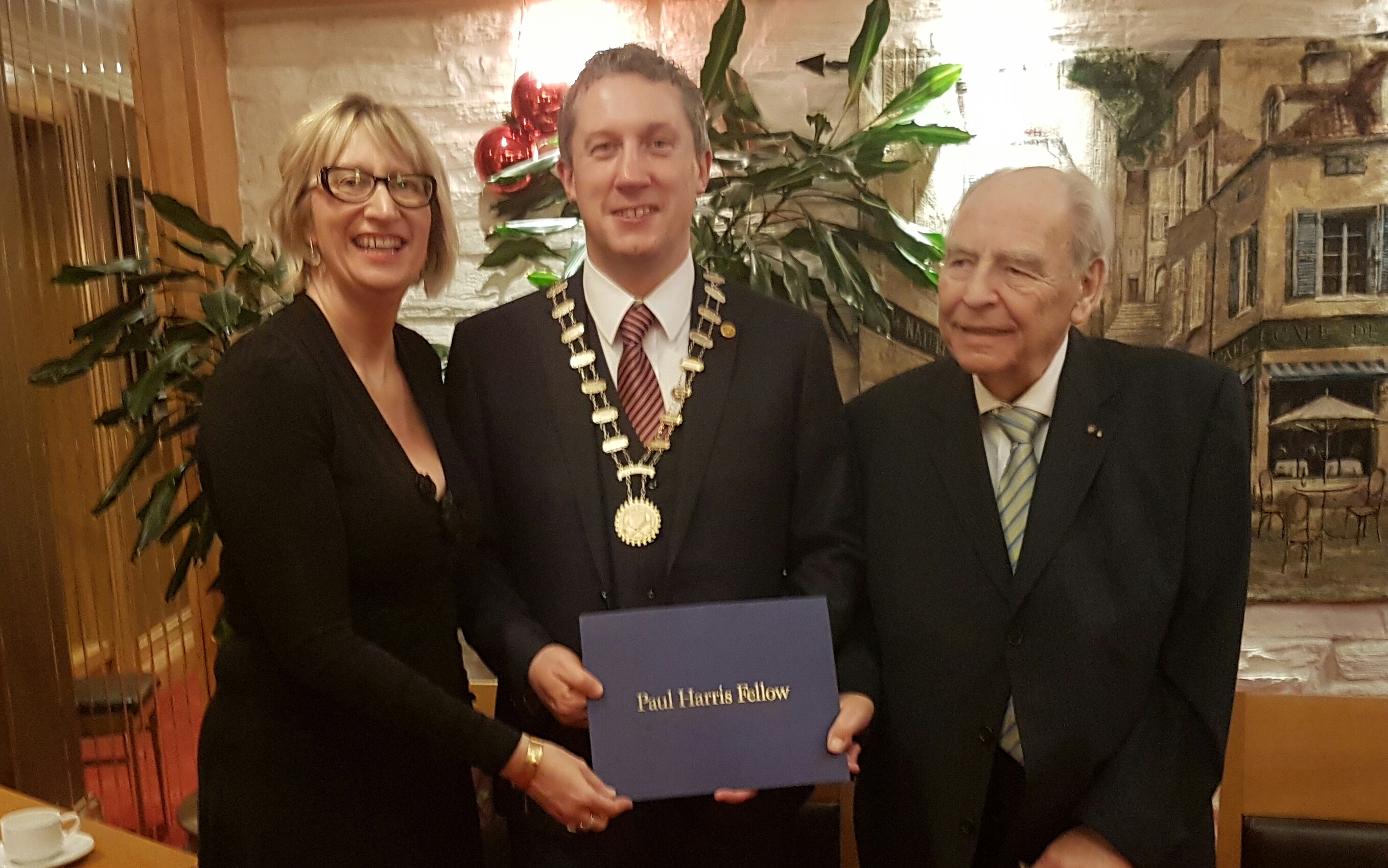 Niall has been a member of the Rotary Club of Wexford for over 5 years, lately having become the President of the club.  At this years Christmas Party Niall was awarded the Paul Harris Fellowship Award.
Jurgen Sassman, Hon Sec of Rotary Wexford, also addressed the Rotarians.  He commented on the success of the Club under the watchful eye of Niall and drew our attention to the wonderful website and much improved social media platform of Wexford Rotary, something that has been driven by Niall through his company Graphedia.com here in Wexford. Jurgen, aided and abetted  by Maura Bell, currently VP of our Club, then presented Niall with a prestigious Paul Harris Fellowship Award.  Rotarians have a tradition of honouring individuals who have made significant contributions towards the wellbeing of their Club.  Niall has certainly earned this accolade.  Hearty congratulations on this Award came Niall's way – very well deserved!!
On behalf of his wife Sarah and himself Niall said " I know the great people that have been given this award in the past, I am truely honoured to be given this fellowship, Thank you to my Vice President Maura Bell (who used to be my boss in Whites hotel 20 odd years ago) and a big thank you to founding memeber Jurgen Sassmanhausen for his kind words, a man that used to teach me German in school, almost 25 years ago. I look forward to your continuing support in the New Year and in the meantime we would like to wish you and your families our very best wishes, and a peaceful 2017."
What is the Paul Harris we hear you say?
The presentation of Paul Harris Fellow recognition is The Rotary Foundation's way of expressing its appreciation for a substantial contribution to its humanitarian and educational programs. It is named for our founder, Paul Harris, a Chicago lawyer who started Rotary International with three business associates in 1905.
Rotarians often designate a Paul Harris Fellow as a tribute to a person whose life demonstrates a shared purpose with the objectives of the Rotary Foundation. Today we have the honour and pleasure of recongising Niall Reck as he becomes a Paul Harris Fellow.
When a person is recognised as a Paul Harris Fellow, they are presented with a Certificate signed by the Rotary International President and the Chairman of the Trustees of The Rotary Foundation, and a lapel pin and medallion. The contribution to The Rotary Foundation can be made in one sum or by cumulative giving over a number of years. Individuals can make a personal contribution or the contribution can be from a club, a company or business.
From all of us here we wish Niall the continued success with rotary as it keeps him out of the office for a while 🙂