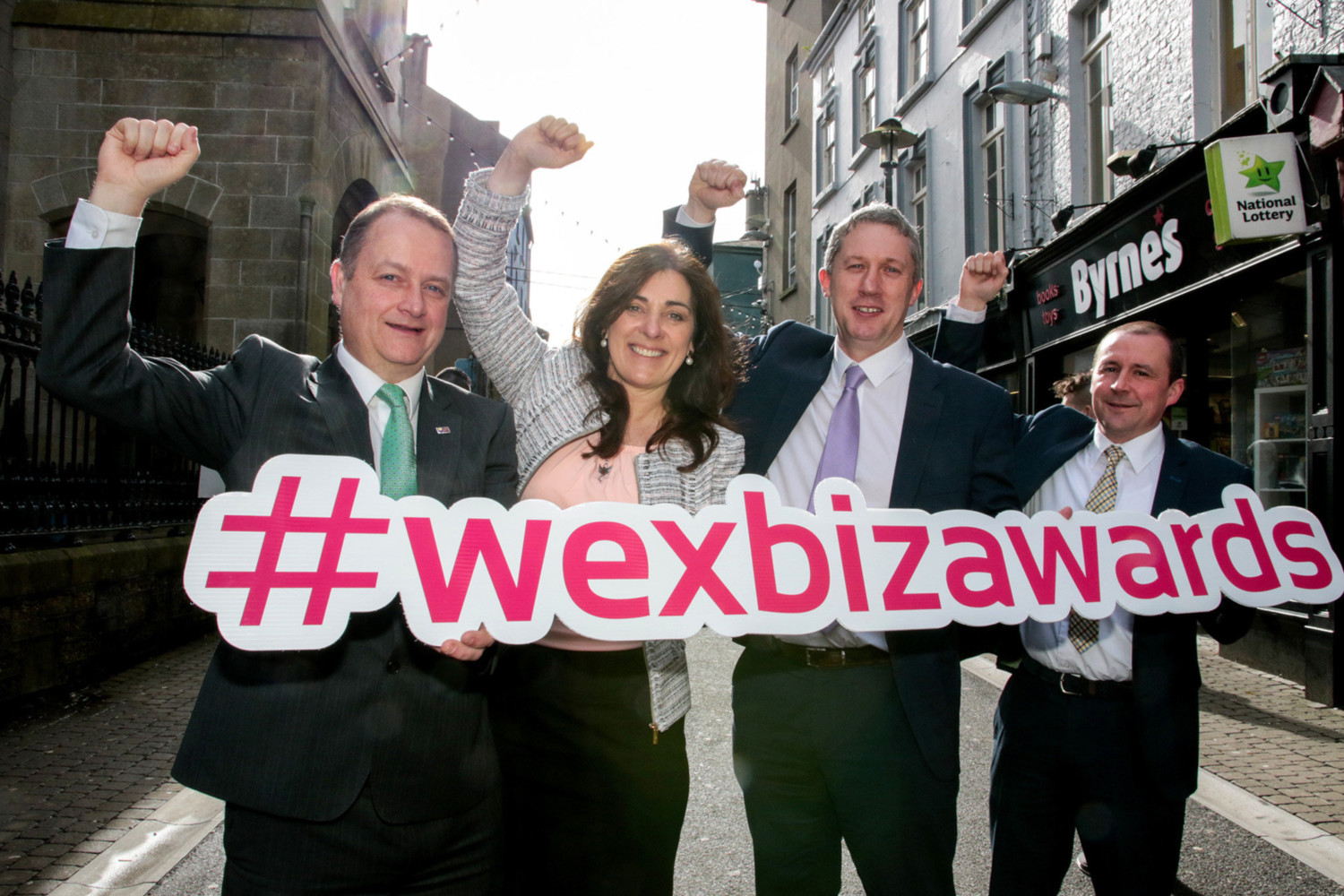 Launching the 2018 Wexford Business Awards on Wexford's North Main Street: Tom Enright (CE, Wexford County Council), Enda Kavanagh (CE, Wexford Chamber), Niall Reck (Chamber president) and Graham Scallan (vice president)
Top businesses across County Wexford will be recognised for their efforts at the 10th Annual Wexford Chamber Business Awards in May, the diamond anniversary of the event.
Over the years, the awards night and the awards themselves have become highly-successful and prestigious and their progress will be followed every step of the way by the Wexford People.
The awards night, which is sponsored by Wexford County Council, will be held at Clayton Whites Hotel on Friday, May 25, and will be hosted by comedian, author and broadcaster Colm O'Regan.
Around 500 local business leaders will be present at the awards, where local companies will be rewarded for their successes.
A lot of awards are up for grabs from Start-up Business of the Year right up to the Overall Business of the Year Award and the Chamber President's Award, a lifetime achievement award given by Wexford Chamber.
The awards, which are free to enter, are open to businesses across County Wexford including both members and non-members of Wexford Chamber. The awards have a number of new categories this year including Family Business of the Year Award and Franchise of the Year Award.
The shortlisted companies, win or lose, will also have an opportunity to secure strong media profiling, as each shortlisting finalist is featured in the Wexford People.
Chamber President Niall Reck predicted the growing confidence in business in the region will be reflected at the awards ceremony.
'We expect great interest once again and especially for this our 10th Anniversary. The success of our Business Awards has been because of the support we have received, and continue to receive, from businesses across County Wexford.
'The level of entrepreneurship, innovation, courage and drive demonstrated by SMES is something that we recognise in our Business Awards and it is a pleasure to have the opportunity to say thank you and to celebrate success.'
The closing date for receipt of entries is Friday, April 13, with the shortlisted companies being announced on Friday, April 20. The awards winners will be finalised by the judging panel on Wednesday, April 25, and announced at the Black Tie Gala Awards Dinner on Friday, May 25, at Clayton Whites Hotel. Entrants will be judged by an independent judging panel comprising of senior management teams of the category sponsors along with other sector specialists judges.
'We are excited to be working closely with Wexford County Council and all of our sponsors in order to make these awards bigger and better than ever! This is a special year and we would encourage all businesses, big and small to enter. Celebrating brilliance in business, we are delighted to offer a wide variety of categories to suit all sectors,' said Enda Kavanagh, the new Chief Executive at Wexford Chamber.
For more information, contact Tracey Morgan at Wexford Chamber on 053 91 22226 or online at www.wexfordbusinessawards.ie