Search Engine Optimisation (SEO) is a powerful method used to increase a website's visibility for the products and services it offers on search engines such as Google, Yahoo and Bing. Organic search has the lions share of web traffic and SEO puts your business in front of the widest possible audience.
Google has fundamentally changed how it ranks websites over the past year and you need to evolve with that. It's time to make your website work for you.
Owner of Graphedia Niall Reck says "Get the basics right, Great Design, Clean Code, Informed Content and you will achieve great SEO success"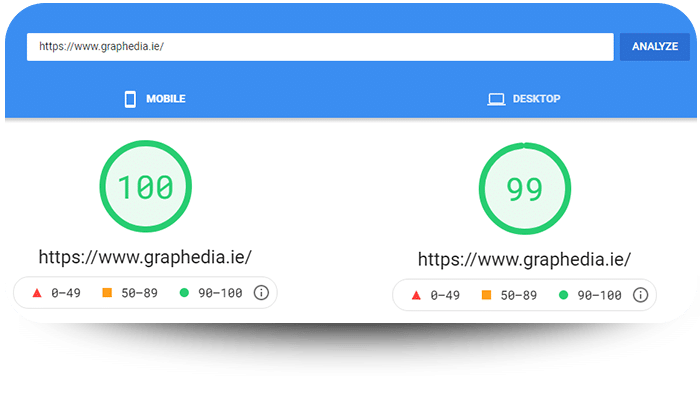 Graphedia Page score as of July 2021
We aim for great scores for all our clients, contact us today and see how we can help you be superlative
Your website will be competing with millions of other sites to try and get people to visit. It is therefore crucial to optimise your site through SEO so that your website will be found above your competitors. As a long established internet marketing and SEO company in ireland, we have the skills and capacity to help our clients get to the top of Google (and stay there).
Basic search engine optimization (SEO) is fundamental and essential, our team always work by the rules as set out by the search engines thus ensuring long lasting rankings that reflect on the quality of your content.
Search Engine Optimisation (SEO) benefits to our clients:
Improved search engine ranking for targeted keywords
Improved targeted traffic for your services
Improved online visibility for your company