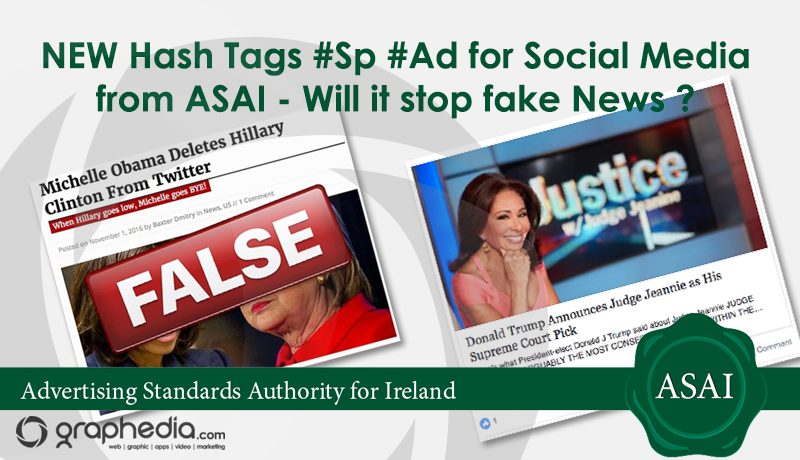 Ireland's Advertising Standards Authority Calls On Influencers And Bloggers To Declare Marketing Communications.
The ASAI, better known as the Advertising Standards Authority for Ireland recently released new guidance information on 'Recognisability of Marketing Communications'. The goal is to help ensure Irish consumers do not get toyed with by social media websites or ads on blogs, through influencer marketing.
Rather than luring consumers into a false sense of security through celebrity endorsements or popular bloggers with a hidden agenda, these marketers must now fully disclose the fact that the communication is an advertisement. While the bulk of responsibility for the communication sits squarely with the advertising company, everyone involved has a measure of responsibility.
The goal is to slap a series of disclaimers and easily identifiable hashtags such as #SP or #Ad before the promotional pitch is even viewed by the consumer.
#SP = sponsored product
#Ad = Advert
Originally, advertisers could simply toss a small disclaimer before the-fold on websites or at the end of the marketing material. Some company's get so sneaky with where this information is placed, that they tuck it away in the terms and conditions section of their material. They do this because they know, people don't really read the terms and conditions entirely, and hope to slip one by consumers.
The new guidance on the 'Recognisability of Marketing Communications' issued by the ASAI outlines the general requirements of advertisers across social media, including:
Independent Reviews, including Blogger and Vloggers
Recognisability
Key watch outs
Free Products
The idea is to prevent paid advertisements from mixing in with the editorial content.
This is especially important for advertisements that are so well written and presented that it is hard to tell if it is simply a review or an actually advertising pitch controlled by company and fed to the masses through bloggers with large social media followings.
Online influencers, vloggers and bloggers are required to follow the ASAI's Code of Standards for Advertising and Marketing Communications in Ireland. This covers all forms of marketing communication. Whether the information comes to you through email, social media or trained birds delivering messages like in the Game of Thrones, these guidelines must be followed.
Orla Twomey, CEO of the ASAI, says:
"The area of influencer marketing has seen a number of in-depth conversations both online and in the media recently as consumers voice their concerns about bloggers who may or may not be declaring marketing communications. Bloggers have also engaged in online forums where they have discussed best practice in so far as what exactly needs to be disclosed and when. The new ASAI guidelines aim to address these concerns and develop a uniform set of standards applicable to both companies and the bloggers who deliver the marketing communications.
As the independent self-regulatory body committed, in the public interest, to promoting the highest standards of marketing communications in Ireland, the ASAI aims to lead the way in ensuring all marketing communications are legal, decent, honest and truthful, inclusive of online influencer marketing.
As part of the ASAI's ongoing Monitoring Service, the organisation has also begun monitoring blogs and online channels including social media. Furthermore the ASAI has also actively engaged with a number of bloggers to communicate the fact that the ASAI Code is applicable to all marketing and that all marketing communications must be declared. Feedback to date has been extremely positive as the ASAI aims to work with advertisers in the best interest of consumers, rather than against them."
The days of company's being able to hide, lie to, cheat and deceive consumers are greatly numbered. The ASAI, while financed by the advertising industry itself (go figure), aims to keep all marketing attempts honest, legal, truthful, and decent.
For a Pdf on ASAI GUIDANCE NOTE Recognisability of marketing communications Click here
What does it mean for Google Adverts
Well this is already covered by Googles "Google Advertement" symbol, so you don't have to add to that side.
In other words, the ASAI wants to make sure you buy for the right reasons, not because someone pulled the wool over your eyes.
For more information please visit the ASAI's Full article here